← Back to artists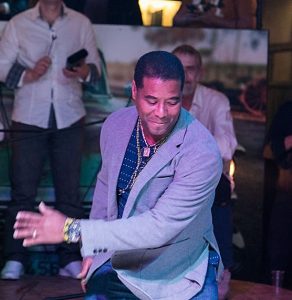 Leonardo Martinez Moya was born in Santiago de Cuba – CUBA. First Dancer, Choreographer and Professor Specialist in Afro-Cuban and Popular Cuban Dances.
Professional and artistic experience
He graduated at (ENA) ESCUELA NACIONAL DE ARTE of HAVANA with specialization in MODERN AND FOLKLORE DANCE.
He graduated, at (ISA) INSTITUTO SUPERIOR DE ARTE of HAVANA specializing in "FOLKLORE CUBANO"
It has been integral for 25 years, of the CONJUNTO FOLKLORICO NACIONAL DE CUBA.
Recognized as FIRST SOLOIST DANCER, he has perfected his experience in the activity as a Professional Dancer, Professor and Choreographer.
He traveled with his COMPANY in more than 30 countries: EUROPE, AMERICA, AFRICA and ASIA, where he brought his dance and his experience as a professor, also giving personalized classes.
As a Professional Dancer he climbed all levels within CONJUNTO thanks to his "Artistic Development" until he became the 1st Dancer and then the Soloist of the Company. He has also participated in other dance groups in the country such as: CONTEMPORARY DANCE OF CUBA and BALLET NACIONAL DE CUBA, where he enriched his preparation as a dancer dancing classical works such as PANORAMA, FAUSTO and COPPÉLIA.
As PROFESSOR he has always distinguished himself in the realization of seminars within the institutes of art in the city of Havana.
As a CHOREOGRAPHER and PROFESSOR OF THE CONJUNTO FOLKLORICO NACIONALE DE CUBA he inaugurated two important works such as: MOFORIBALE A CHANGO, OCHANIGUE.
He was a professor and choreographer for the BALLET of CUBAN TELEVISION.
He was a FOLKLORICO ASSESSOR of the Centro de Instructores de Arte cubano.
In addition to the many professional awards he received, including the "TO PERSONALITY" of Cuban Culture, he received important praise for his collaboration in the Community Sector.
Currently
He continues to be a member of the UNEAC (National Union of Cuban Writers & Artists), with the order to promote his Cuban culture in Italy (PROYECTO LUCUMI), where he has been living since 2008.
He continued his artistic career as a TECHNICAL PROFESSOR, POPULAR MUSIC DANCING, CAMPESINO DANCING, as well as COREOGRAPH for several repertoires of the CONJUNTO FOLKLORICO NACIONAL DE CUBA.
In Italy, where he has been living since 2008, with the mission of transmitting his african and popular Cuban culture, PROYECTO LUCUMI, he works as a Choreographer and Professor in Contemporary and Cuban Folk Techniques, Afro Cuban (Yoruba, Congo, Arara, Abakqa, Bantù), Popular Cuban Dances, (Son, Mambo, Cha cha cha), Rumba (Yambu, Guaguancò, Columbia), Dances Campesine, African Haitian, Cuban Salsa (Timba, Rueda de Casino)